Deciding between heating repair or replacement can be challenging, but considering specific factors can guide your decision. Here's a comprehensive guide:
Age: Systems over 11 years could be due for replacement.
Repair Frequency: Frequent repairs suggest a need for replacement.
Energy Bills: A spike in costs indicates inefficiency.
Comfort Level: Uneven temperatures often imply system failure.
Noise Levels: Increased noise can signal a major issue.
Energy Efficiency: Older units are typically 37% less efficient.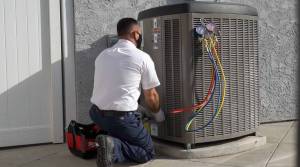 Environmental Impact: Newer systems have a lower carbon footprint.
Current System: Non-condensing systems are outdated and less efficient.
Repair Cost: Repairs exceeding 50% of the system's value justify replacement.
Warranty: Out-of-warranty units warrant a new purchase.
Technology: Modern systems offer superior technology and control.
Home Size: Ensure system capacity adequately matches your space.
Resale Value: An efficient system increases home value.
Professional Advice: Technicians provide insights on repair vs. replacement.
Local Incentives: Some regions offer incentives for energy-efficient units.
Future Planning: Consider long-term costs, savings, and home plans.

Remember, each situation is unique. Analyzing these aspects ensures a well-informed decision, contributing to long-term comfort and cost savings. Always consult with a professional to weigh the pros and cons specific to your circumstances.