Heating Replacement Savings:
When it comes to staying warm during the winter months, having an efficient heating system is essential. If your old heating system is on its last legs or simply not providing the warmth and comfort you need, it might be time for a heating replacement. But before you rush into purchasing a new system, it's important to understand how to get the best deal while ensuring that your new heating system is both energy-efficient and cost-effective.
Heating Replacement:
According to the U.S. Department of Energy, heating and cooling account for nearly half of the average household's energy costs. This means that making the right choices when it comes to your heating system can have a significant impact on your energy bills. In fact, upgrading to a more energy-efficient heating system can lead to substantial savings over time. Modern heating systems are designed to be more efficient, often boasting efficiency ratings of 90% or higher, compared to older systems that may have efficiencies as low as 60%.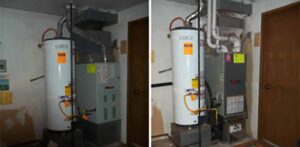 Heating Replacement Savings:
To maximize your savings on a heating replacement, it's crucial to do your homework. Start by researching different heating systems and their energy efficiency ratings. Look for systems with the ENERGY STAR label, as they meet strict energy efficiency guidelines set by the Environmental Protection Agency. While the upfront cost of an energy-efficient system may be slightly higher, the long-term savings on your energy bills can far outweigh the initial investment.
Heating Replacement:
Additionally, consider the type of fuel your new heating system will use. Natural gas tends to be one of the most cost-effective options, as it's often cheaper than electricity or oil. However, the availability of natural gas in your area may vary. Be sure to explore all available fuel options and their associated costs before making a decision.
Heating Replacement Savings:
Once you've selected the right heating system for your home, it's time to find the best deal. Shop around for quotes from reputable HVAC contractors, and don't hesitate to negotiate. Many contractors offer financing options or rebates on energy-efficient systems, so be sure to ask about any available incentives. Additionally, consider seasonal promotions and discounts, as HVAC companies often offer better deals during the off-peak seasons.
In conclusion, a heating replacement can be a smart investment in both your comfort and your finances. By choosing an energy-efficient system, conducting thorough research, and exploring all available options, you can maximize your heating replacement savings. Remember that the upfront cost is just one part of the equation, and the long-term savings on your energy bills can make a significant difference in your budget. Stay warm and cozy this winter while keeping your wallet happy with a cost-effective heating replacement.