Heating repair is an inevitable part of homeownership, especially as units age and face the stress of constant usage. Recognizing the common problems can lead to quicker resolutions:
Thermostat Malfunctions: Causes uneven heating. Check settings and batteries first.
Dirty Filters: Can reduce efficiency by 15%. Monthly checks are advisable.
Worn Out Blower Belts: Producing a high-pitched sound? Likely a belt issue.
Ignition Problems: Furnace not starting? Ignition or pilot light could be the culprits.
Cracked Heat Exchanger: A severe issue, often requiring replacement.
Noisy Furnace: Rumbling or squeaking can indicate various issues, from loose belts to ignition troubles.
Short-Cycling: Thermostat issues, dirty filters, or overheating can cause frequent on/off cycles.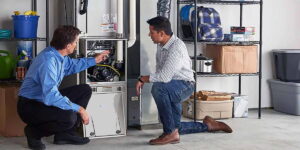 Constant Blower Operation: Likely related to limit switch issues.
Faulty Pilot Light: Can be due to clogs, broken sensors, or draft issues.
Aged Furnace: Units over 15 years might face frequent issues, making replacement a consideration.
Ventilation Blockages: Ensure vents are unblocked for consistent heating.
Blower Motor Issues: If you're regularly oiling yet face problems, seek professional advice.
Broken Thermostat Sensors: Can lead to erratic temperature changes.
Gas Leaks: Notice a sulfur smell? Turn off the furnace, ventilate the area, and call professionals.
Electrical Problems: A blown fuse, tripped circuit breaker, or other issues can disrupt heating.
Water Leaks: For boilers, this can indicate valve or pump issues.
Regular Wear and Tear: Components wear out; periodic checks and timely repairs extend unit life.
Understanding these common issues can make the heating repair process smoother and more efficient for homeowners.